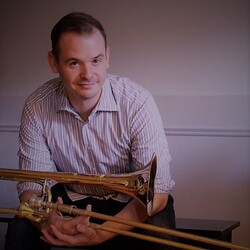 Nate Fanning joins the Kitchener-Waterloo Symphony as Principal Trombone after several years as a freelance trombone player and teacher. Nate has played with some of Canada's leading orchestras including but not limited to the Canadian Opera Company, Orchestre Symphonique de Québec, Opera de Québec, Orchestre Classique de Montreal, the Hamilton Philharmonic Orchestra, Thunder Bay Symphony Orchestra and the London Symphonia.
His formal education started at Wilfrid Laurier University studying with Jay Castello and continued at the University of Toronto under Gordon Sweeney. While at U of T, Nate was a winner of the concerto competition in 2009. Upon completion of his Masters degree, Nate was accepted into and completed the Artist Diploma program at the prestigious Glenn Gould School at the Royal Conservatory of Music where he studied with Gordon Wolfe. A member of the National Academy Orchestra of Canada under the direction of Boris Brott for the 2009 and 2010 summer seasons, Nate has often been used as an extra or mentor with the orchestra since.
In 2015 Nate had the privilege of playing with Album and Group of the year winners The Arkells at the Juno awards in front of a nationally televised audience. Other artists Nate has shared the stage with include Roger Hodgson (Supertramp), Grammy winners Evanescence and Sarah McLachlan, Billboard and Teen Choice Award winner Lindsey Stirling, Juno winner Johnny Reid, and Il Divo. A big highlight of Nate's career was playing in the pit while his father John Fanning sang the lead role in the world premiere of Brian Finley's Opera The Pencil Salesman under the direction of Dan Warren at the Westben Arts Festival in 2016. Nate is also the music director and Organist for Knox United Church in the town of Ayr.
When not practicing, performing or teaching, Nate loves watching sports (especially his beloved Blue Jays, Maple Leafs, Browns, Tiger- Cats and Norwich FC) and spending time with his wife Amy and children Maggie and Matthew.